Mission
Our mission is to bring area women together in the battle against breast cancer and to provide relief to those who suffer from its effects now. Survivors of Benton County is here to empower women and to encourage each survivor to
"Be a Thriver"!
About the Survivors of Benton County
Survivors of Benton County is a group of women who have gone, or are going through, the same traumatic life experience… Breast Cancer. We are here to advance the awareness of breast cancer and to educate the public about the support available in Benton County, to also support other personnel, individuals and organizations that share in the goal of helping breast cancer patients. We are SURVIVORS.
We're a group of women who get together monthly to eat, laugh, share stories about our experiences, but most importantly, talk about life. Our members want to encourage others to be proactive through awareness of breast cancer, to promote being checked regularly and therefore to save lives with early detection. We are here to provide nurturing support services, education, direct assistance and financial aid. We meet the 1st Monday of the month in the months of March, June, Sept and Dec.
The dates will be:
Sept. 3, 2019 (Tuesday because of Labor Day; Speaker TBA)
Dec. 2, 2019 (our Christmas Party)
March 2, 2020 (Speaker TBA)
June 1, 2020 (speaker and Party in Pink update)
We meet in the dining room of Windsor Manor in Vinton, Iowa from 5:30-7:00. Dinner is provided by Windsor Manor staff at $7/person. Check local news sources for reminders. For more information feel free to contact: Lu Karr 319-560-9408, Janet Woodhouse 319-472-4862, or Deb Wilberg 319-472-4042
Anyone diagnosed with breast cancer living in Benton County or the surrounding area may attend. Meetings are informal and full of laughter and conversation, Party in Pink planning, an occasional program. Join local breast cancer survivors as we share stories of lost wigs, floating prosthetics, and creative ways we dealt with the stress of being diagnosed with and treated for cancer.
We recognize that while support groups are beneficial for many cancer patients, they aren't for everyone. Some people prefer to keep their feelings to themselves or to share them only with close family and friends, or through online support. Everyone has different needs. It is most important to find a support system that works for you. So we offer the following contact names and emails for those who prefer to talk to someone electronically.
Lu Karr [email protected]
Deb Wilberg [email protected]
Janet Woodhouse [email protected]
Kathy Lariviere [email protected] or https://laughwithkathy.com
Party in Pink Cancer Survivors
Participants at Vinton Party in Pink
Decorated bras at Party in Pink
Cancer Survivors at VSHS Football
Party in Pink - A Family Affair
Party in Pink
The Survivors of Benton County have become instrumental over the past several years in raising funds through their various activities, primarily the Party in Pink 5k race held in June. Hosted by breast cancer survivors of Benton County, Iowa, and in cooperation with the Virginia Gay Hospital Foundation, this 5K walk brings the community together for a day of fun and a whole lot of pink!. Proceeds from this walk go to the Gifts of Hope Fund.  
The women of the Survivors of Benton County have raised $35,000 for the Virginia Gay Healthcare Foundation's "Gifts of Hope" program. The program has received almost $51,000 in donations and has disbursed nearly $32,000 to patients in need. The program helps fund a variety of healthcare-related costs women experience, including costs for tests, treatments and travel expenses. Qualifying for the program is as simple as talking with your Virginia Gay health care provider at any of the four Virginia Gay Family Medical Clinics in Benton County.
Gifts of Hope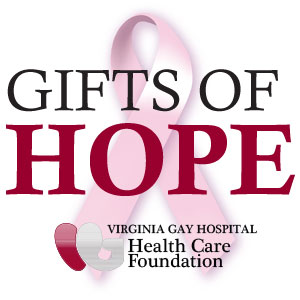 Gifts of Hope is a fund created to provide free mammograms and diagnostic services to those who need financial assistance to pay for a clinic visit, testing, co-pays, and diagnostic analysis of those tests to determine next steps, as well as Pap tests and/or pelvic exams. Funds are meant for people who have no insurance; have a health insurance policy that does not pay for these services; and those who cannot pay deductible or co-insurance amounts. Talk to your VGH provider if you want to use Gifts of Hope funds and it will be arranged. No Application is necessary.
Through dedicated effort and strong leadership, they have become a real fundraising force in the fight against breast cancer. They got their start when the girls basketball coaches and team, during the 2009-2010 season, decided to honor breast cancer survivors and raise funds for a Coaches against Cancer game. The money was donated to the Foundation and the momentum for the Gifts of Hope has grown from there. If you would like to contribute to this fund, you may donate online by clicking here.
 Laugh With Kathy Proceeds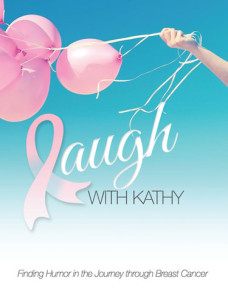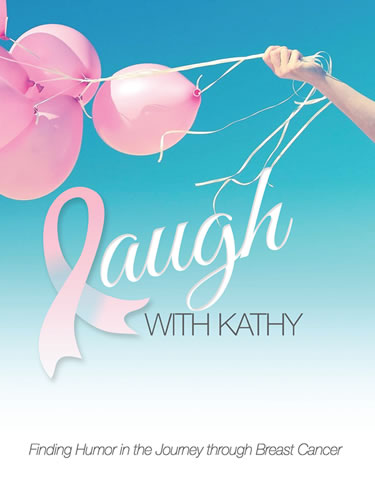 During the month of October, local survivor Kathy Lariviere donated proceeds from Laugh with Kathy book sales to Gifts of Hope and Hall-Perrine funds to help local women receive diagnostic and cancer care.  Kathy plans to make this an annual contribution to these very worthwhile funds.
There is nothing funny about being diagnosed with cancer.  But thanks to improvements in treatments and research, more and more people are surviving cancer.  For me, simply surviving was not enough.  I didn't want to just survive cancer; I wanted to crush it.  Since I couldn't do that, the next best thing was to laugh at it.  After all, what could be more demoralizing to an enemy than to laugh at them?  This book offers a lighthearted, quirky look at surviving breast cancer . . . with attitude!  Laugh With Kathy may be found on Amazon.com or www.laughwithkathy.com
Contact the Benton County Survivors Group