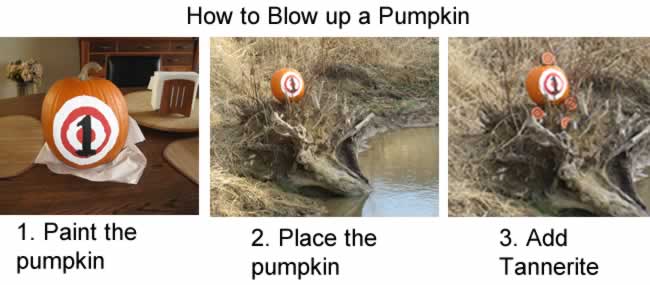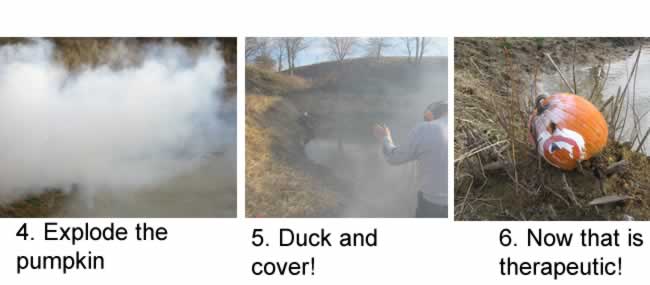 Blowing up a pumpkin is therapeutic, I don't care who you are. It makes me laugh. While I find a year of chemo daunting, it does give me many opportunities to have some fun. Phase I, the super sucky phase, required some form of therapy to mark the passing of each of the four chemo sessions. So I chose to blow up pumpkins.
Since it gets dark about 4:30, it was too late on Wednesday to take care of the task. So we gathered our gear and headed down to the pond to take care of business this afternoon. It was a beautiful day. I fed the fish in the pond in hopes of pacifying them before the fireworks began. We placed the pumpkin on a tree stump that was formerly submerged before the drought reduced the water level. And we mixed the Tannerite.
Tannerite tends to be a bit harder to blow up than the package states, but we were being cautious and following the rules. We set the target on the stem of the pumpkin and aimed and fired . . . and blew the target off the pumpkin and harmlessly into the water. The pumpkin continued to sit nicely on the stump without injury. It seems to me that blowing off steam is a lot harder in practice than in theory.
We blew all kinds of holes in the pumpkin with no explosion, until Gene got just the right hit and POW! A big, orange ball of flame exploded by the pumpkin. My mouth was a big "O" and my eyes were huge, and then I doubled over laughing. But there was still some pumpkin left, so we added more targets and started shooting until the second explosion. A large cloud of smoke came our way and I'm laughing so hard that I'm gasping. Pieces of pumpkin are flying into the pond and I wonder what the fish are thinking. I also wonder what the neighbors are thinking.
Yes, blowing up pumpkins is therapeutic, I don't care who you are.