After exhausting the Iowa pumpkin supply, Gene and I traveled to Texas over the holidays to celebrate the near end of my treatment with my family. Gene has marked the completion of each chemo session these past 15 months by blowing up a pumpkin or watermelon for me. With only one infusion left in my treatment, we wanted to have an early celebration with my family.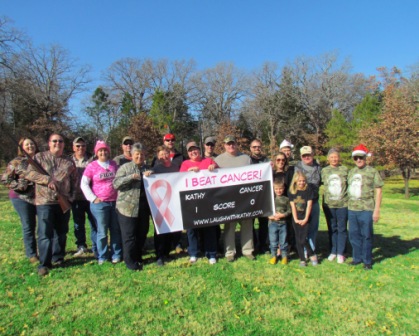 I asked my family members to come "dressed to kill," which as you can see, has a special meaning in Texas. Each family member wore various chamo-colored shirts, hats, and accessories. Some carried weapons. My Mom's weapon of choice was a camo-colored flash light. I'm not sure what she planned to do with it, but it made me laugh as she clutched it in her hand. Maybe she was the light at the end of the tunnel. As we gathered for a group photo, I looked around and thought about the support that they have given me this past year. So many emails and cards and text messages. Their messages of support and caring gave me strength to see my treatment to the end.
Since pumpkins were scarce in Texas as well, we celebrated by blowing up melons, piñatas, and water jugs. I sat with my mother as my brother-in-law took the first shot and exploded the piñata. Mom's eyes were huge and I laughed as confetti flew in every direction. It doesn't get better than that. The neighbor's horses and dog barely even flinched at the noise. You can tell we are in Texas! There is something cathartic about watching things blow up! One minute they are there and the next minute they are in a hundred pieces. Next came the water jugs, and most everyone took a turn at a target. I was impressed that everyone hit their target on the first try. They must have been practicing.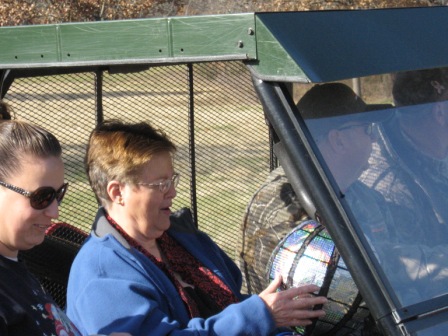 After the water jugs and piñata were killed, it was time to shoot some melons. When I asked everyone to bring their own targets, I suggested something organic. I used the excuse that the birds and animals would then clean up the mess, and we wouldn't leave a lot of debris in Mom's field. In reality, I made the suggestion because there is something funny about watching food explode.  I was entertained with stories about trips to the Hispanic Food Market in search of the perfect fruit to blow up.
I have to admire the women in this family because they are excellent shots as well. I can hit a target, but I don't care for shooting guns. It is entertaining to watch others shoot though.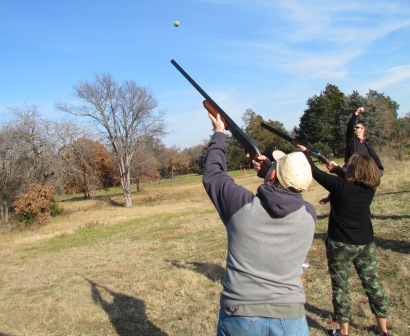 We finished our celebration with by splitting into several tables and playing cards and dominos. Prizes were available for the best players, and my brother and I won all three rounds of games. My brother suggested we skip out and hit the casino with the luck we were having. I will admit, I was tempted.
Spending time with family is so much fun. I will remember this Christmas for the rest of my life.