On June 17th, my son, Nicholas married Samantha, the love of his life.  It was a beautiful, simple ceremony in Las Vegas with two dozen family and friends in attendance.  The day started with my siblings and I taking our mother to breakfast and then out to teach her to gamble.  We don't often get together, so it is always special when we do get the chance.  And we had so many laughs as we taught Mom how to feed the one-armed bandits.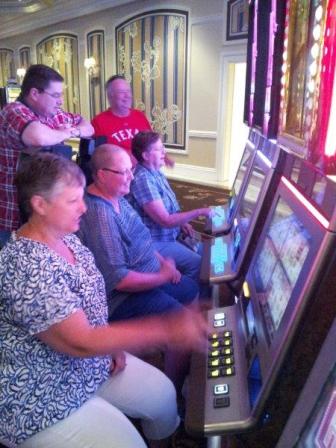 Later that morning, Sam's Mom and I, and Danielle had a Vegas makeup artist do our hair and makeup.  Who knew that there would be so many layers of makeup and so many questions?  I was so out of my element, but fortunately Danielle was there to answer any questions.  Francesca penciled on eyebrows and glued on eye lashes and I looked in the mirror and saw a hint of my former self.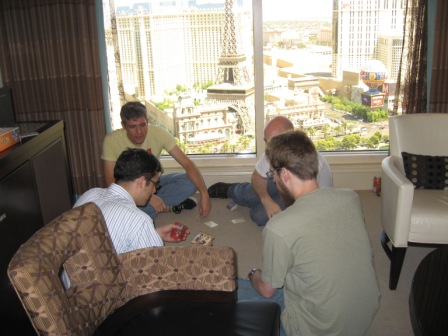 We lunched and laughed and celebrated the day as Nick and his friends played card games on the floor of the suite overlooking the Strip.  It was casual.  It was fun.  It was how a wedding day should be.  We laughed as Nick had to keep running up and down the elevator to pick up the cake, the flowers, the photographer.  We all agreed that living with a key card controlled elevator was just not our style!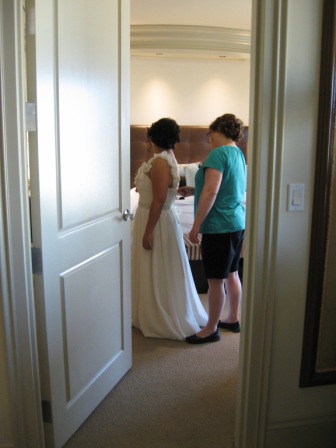 Watching Sam's Mom helping her dress was a special moment.  I felt privileged to get a peek into that window. And as I looked at my son, grown and about to start on a new chapter in his life, I could see so much of his father  . . . a kindness and concern for others, a deep sense of responsibility,  a friend for life.  And sweet Sam, we couldn't have picked a better daughter-in-law.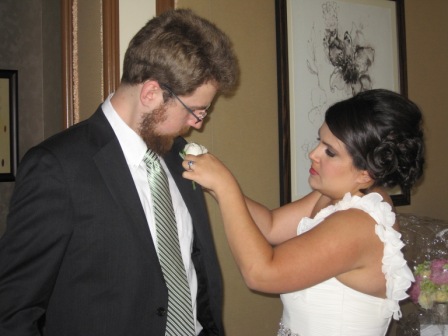 I watched as Sam pinned a rose to Nick's lapel and thought of so many things that I would like to tell them.  Mostly I wanted to tell them that I could not wish more for them than what I have found with Gene.  That I hoped that 30 years from now, they could look at each other and see a friend, a lover, someone who would laugh at them and with them, someone who would hold them when they cried, and most importantly, someone who would walk with them through life's journey.  Someone who would make this journey easier. But the words stuck in my throat.  I said a silent prayer to God thanking Him that I got to live to see this day.
Nick and Sam were married in the same church that my in-laws were married in, and used my in-law's wedding rings.  I didn't cry, which is a miracle since I cry at every wedding.